I'm always reading blogs, looking at Instagram and Pinterest, reading magazines and looking into people's houses – yup I do that, when I'm walking outside and it's dark. It's a great way to find inspiration. Therefore, my wishlist is an ongoing list, which I add stuff to weekly. I've got one on Pinterest (the visual version) and I've got one in a notebook.
This autumn I've added some really cool things to my wishlist – and most of them will probably make it to my Christmas wishlist as well. I love this season, and the excuse to add a few new things to your home. It really needs to be cozy, when you have to stay inside so much. What are the things you're looking for that will add that cozy feeling to your home this season?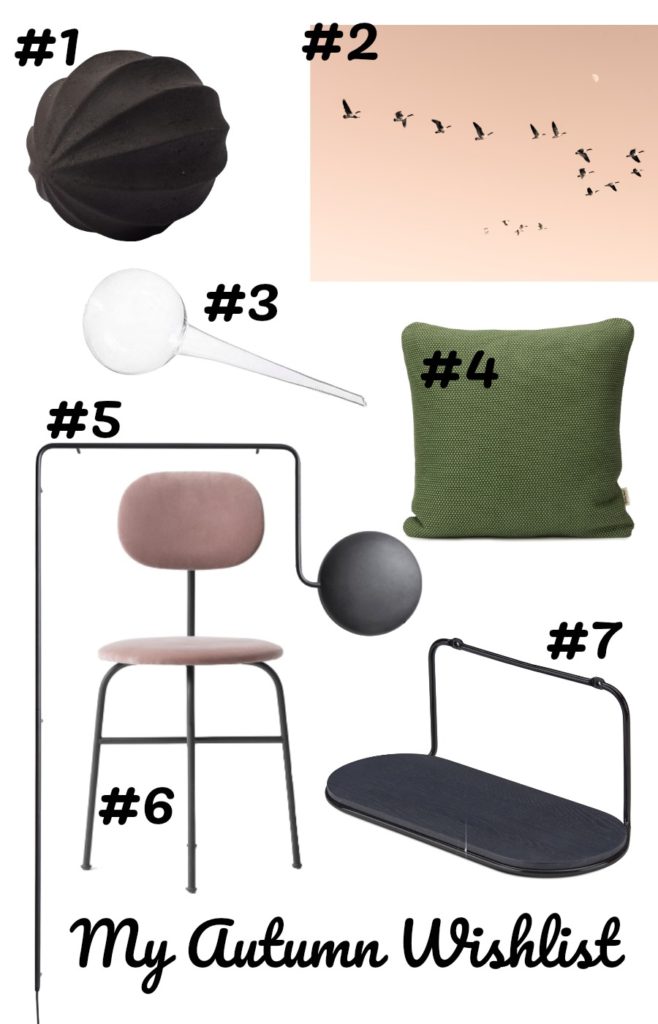 Where to find it:
#1 I've found this pretty cool ceramic citrus press, which I would love to test.
#2 One of the absolute highlights I've found this week are the photographs taken by Maria Fynsk Norup. I absolutely adore this one called Morning Flight and I would love for it to hang in my living room.
#3 This little fella is a self watering device, and it's small and simple, which I love.
#4 Ever since we bought a new sofa I've been looking for pillows or pillow cases. This green pillow would add that autumn feeling, which I'm looking for.
#5 If we add a bit of paint (I've got some leftovers from when we painted my boy's room this summer), this Mercury wall lamp  would be fantastic in out home.
#6 I'm still obsessed with everything pinkish – and this Afternoon Chair plus dusty rose is no exception. It would look great around our new dining room table (if we ever decide to act on the current choice that is)
#7 Last but not least, I've had my eye on this cool wire shelf. This is such a Charlotte -item, because in my head, I can see it in every room in our home. When that happens, I keep thinking about the item, and that when I know I'll be happy every time I look at it.
This post contains ad links