Baby it's cold and white outside, but I love it. I'm wrapped up in numerous layers of clothes, whenever I leave our home. There is nothing like a big warm knitted cardigan. My kids are having a blast. They can play outside in the snow all day long. Then they return with red cheeks and eyes full of joy, and then it's time for a hot cup of tea and a board game or a book. It truly is a wonderful time of the year.
I've got a blog classic for you today, which I for some reason haven't tried yet. But there's a first time for everything. Here's my take my Want Wear Need Read in January.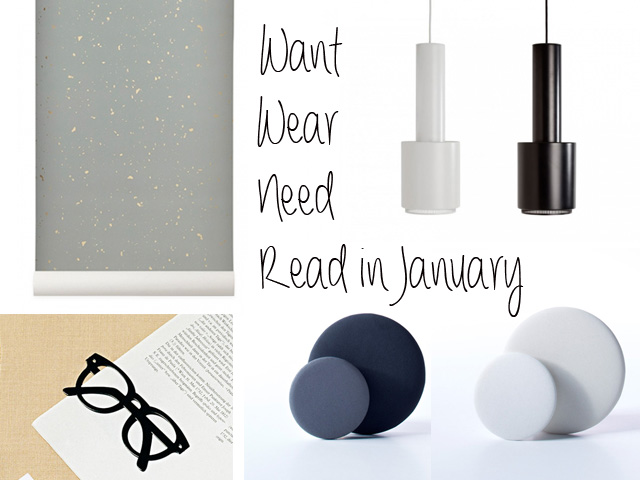 Want – This month I can not stop thinking about the new confetti wallpaper from ferm LIVING. It'll be in stores in a few months time, and I'm so tempted to give this smartwall wallpaper a go.
Wear – Safety first, right?. That's why I love the Reflective badge "Oreflector", which shines in the dark. The Oreflector comes in different sizes and different colours – perfect for the whole family.  "Wear "Oreflector" without ruining your outfits and without being run over" <3
Need – We still haven't found what we're looking for in terms of a lamp for our stairway. I've had my eyes on the Grenade lamp, designed by Alvar Aalto, for quite some time, but I'm still not sure it's the right lamp for that corner.
Read – January means lots and lots of reading, and I've found the coolest bookmark for my books. The finely-cut metal bookmark from Octaevo is shaped like a pair of stylish sunglasses – isn't that cool?
This post contains add links