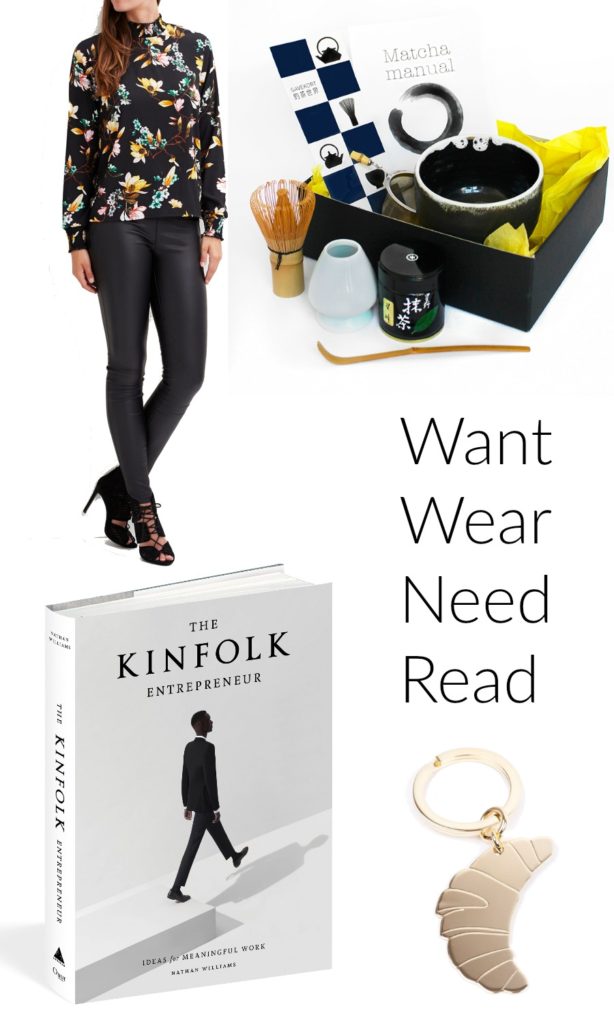 It's time for the October edition of Want Wear Need Read. I had planned to post it a few days ago, but I never got around to it.
Want Ever since I bought the croissant necklace from Jukserei for my birthday, I've been wanting to add this croissant keychain to my bag. It's really cool, and I wear the necklace quite often.
Wear Normally, I wear different shades of black (or so my daughter would tease me) so putting a flower blouse on my wear list  is a big step for me – some would say in the right direction. But I'm not ready to go all out just yet. With this blouse I can still wear my favourite color if I wear it with a black skirt or trousers.
Need I really need a new batch of Matcha. I drink a matcha iced latte every morning, and for me it's the perfect way to start the day. Normally, I meditate while the matcha gets cold in my beautiful pink mug. I'm looking for different brands of matcha and would love to try out different ones. I've got my eyes set on this matcha kit. Do you drink matcha, and if so where do you buy it online?
Read I've been waiting on this new Kinfolk book for quite some time now. I pre-ordered it a few months back, and I just checked up on it, I might have it later this week or the beginning of the next. I'm planning on quite a few hours of reading with a cup of coffee in my hand.
This post contains ad links