The summer holiday is getting closer by the minute. This year it's a staycation summer for us – even though it is a bit nerve wrecking with the weather just now. But I'm sure we'll figure something out.
We're going to Christiansminde near Svendborg again this year. It's the perfect spot for me and my family. We can relax, enjoy the beautiful surroundings, explore Fyn and simply enjoy a bit of time away from home. It's our fifth summer there, so we haven't planned a whole lot yet. I think we'll just see what happens.
I've made of list of things to bring or do on your staycation – and if the weather continues, you should look at it as a survival kit 😉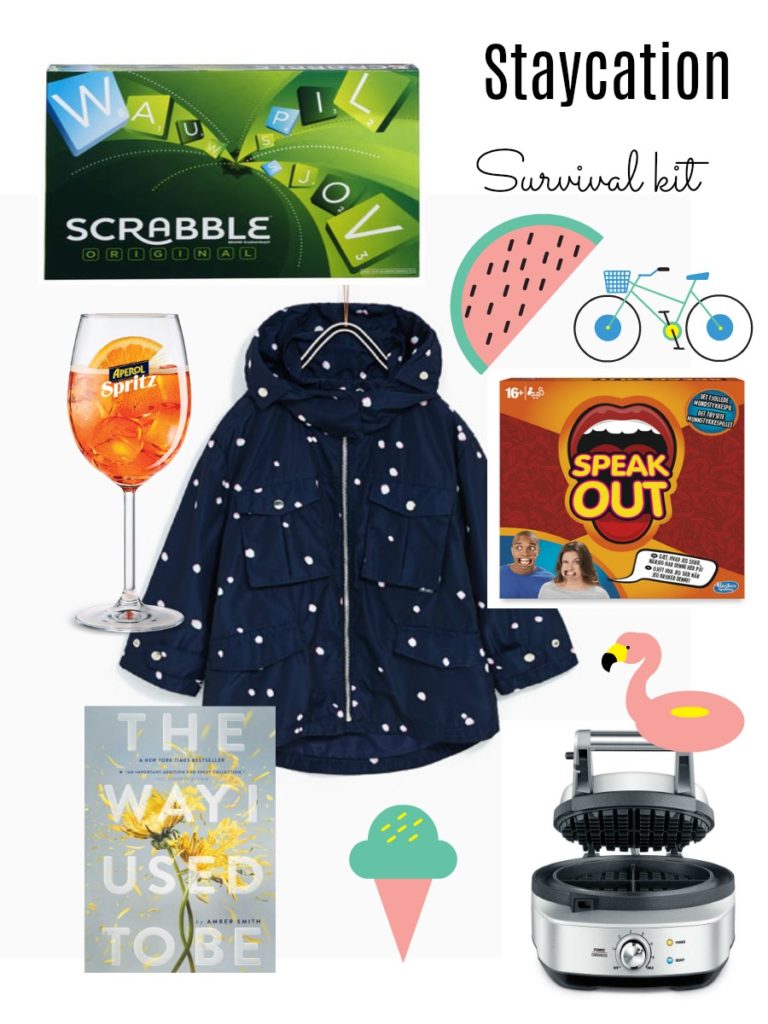 The Survival kit
Tip 1 – Games – Always bring lots of games in case of a rainy day or a slow evening on the terrace. This year, I plan to bring Scrabble for my husband and I and Speak Out for the whole family.
Tip 2 – Aperol – If you ask me it's still a wonderful summer drink. I plan to enjoy a Aperol Spitz while overlooking the sea. Fancy to spice up your Aperol this summer, then take a look at this link (it's in Danish).
Tip 3 – Raincoat – If you live in Denmark or you plan a trip here during the summer (or any other time of the year for that matter) invest in a pretty raincoat. Trust me, you'll not regret it. This one is from Zara's Girls collection, and I'm in love.
Tip 4 – Books – Summer means reading lots of books, if you ask me. A thing I'm trying to pass on to my kids as well. Hopefully, I'll succeed. This summer I plan to read The Way I Used to Be by Amber Smith and a few other books as well.
Tip 5 – Breakfast – It's my favourite meal of the day. Normally, I don't have much time to prepare a delicious breakfast, but during the weekends we often make something special. Imagine 3 weeks in breakfast heaven – I know I'm in for a treat in Christiansminde, but I know my husband will make something even better, when we get home. On top of my wishlist is The No Mess Waffle maker – with one of these our mornings will be magic.