Can you believe it – where did this month go? I've been participating in a lot of interesting things this past month, met a lot of inspiring people, and I'm one step closer to finding the right path.
Last month I started this Want Wear Need Read series on the blog (to check out my list from January click here), and I've been looking forward to sharing this month's edition with you here on Espresso Moments.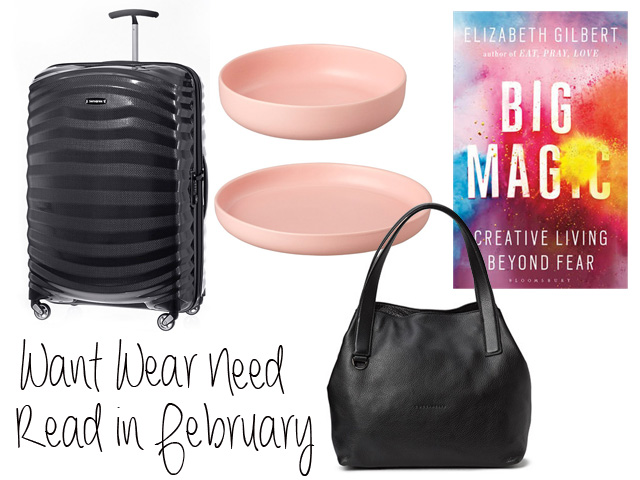 Want – This month I really want these beautiful pink tablewear from the Mezzo collection by Casalinga. I would love to eat my breakfast from one of the items, and from a styling point of view, it would make taking pictures so much more fun.
Wear – I would love to wear this black Mila bag from Coccinelle on my arm. I was looking for a smaller bag, but I fell in love with this one. If only my husband had bought this one for me on our wedding anniversary earlier this month, then I would have kept it.
Need – I really need a suitcase for our trip to Mallorca later this year. It's a very practical thing, and I always travel with my leather bag. But somehow, I don't think I can fit all of my things into that bag this time. I've got my heart set on a Samsonite Lite-Shock spinner 75 cm in black. It's kind of expensive, but I just know I'll have a suitcase for life. And I found it on sale, so right now I'm thinking: What am I waiting for?
Read – Big Magic by Elizabeth Gilbert. I mentioned earlier this week that I've been reading this fantastic book this month. I haven't finished it yet, but I take it with me where ever I go (yup, I've got a printed edition – I'm old fashioned that way)
This post contains add links