I've decided to make a few changes in our hallway. It's old, dark red, green and gold coloured, and some of it belongs to the old lady living downstairs. Therefore, I cannot change the whole thing just yet. But what I can do is to make a few changes outside my main entrance.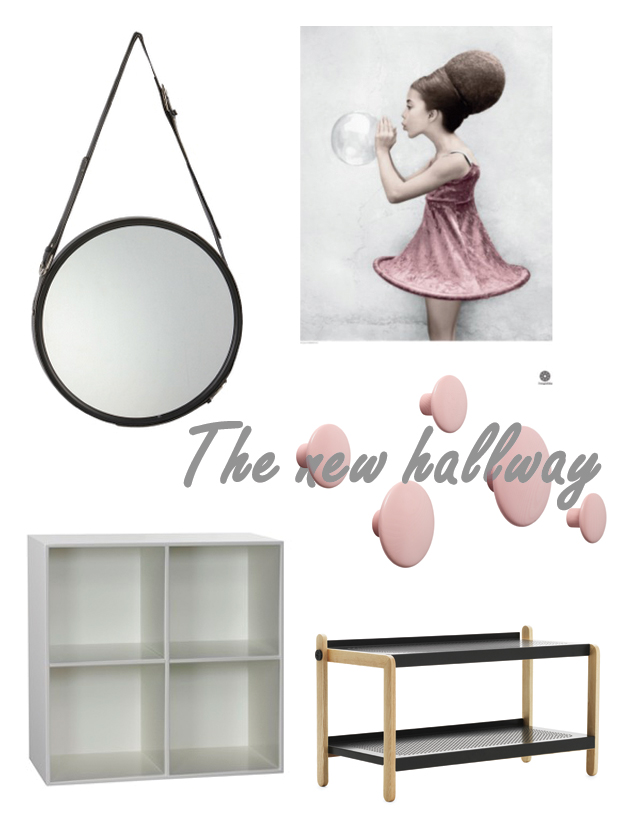 Therefore, I've created this collage with some of the things I want to buy to make it feel more like the onside of our home.
One wall is painted grey, and I want to place these things on or in front of that wall.
For years we've had the Kubik bookcases from Trævarefabrikernes udsalg. They've been used in almost every room in our old home as well as our current home. It's not too deep, and with a few small storage boxes, it will be perfect for hats, mittens, rain coats and other stuff for the kids.
With two adults and two kids in the house, we really need storage space. We've got a ton of shoes. I'm looking for a shoe rack for the one pair of shoes we use the most. The one from Normann Copenhagen has been on my list for some time now.
I would love to add a mirror out there as well. I've found this one on Ellos, and it's not that expensive. No more getting out of the door with messy hair.
The rose Muuto dots would look great on the grey wall, and I would use them for tote bags. To add a bit more rose colour out there, I would like to add the Vee Speers The Birthday Party on the wall as well.