A week from now it's Mother's Day. My daughter is planning the day several weeks in advance. And right now, I'm not allowed to enter her room, without knocking on the door first. She's making plans and a gift for me and so is her little brother. She's been asking me for weeks what I would like for Mother's Day, because she wants to go out an buy a present for me as well. This is the list I've come up with.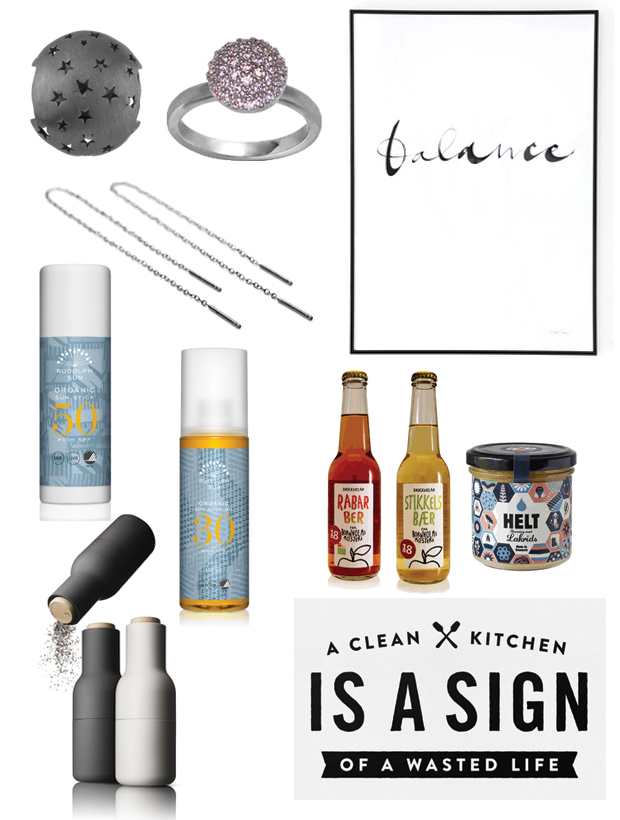 I've found a ring and a pod for my leather barcelet from byBiehl. I love Charlotte's design, and it's time to add a new pod to my collection. I also quite like the double earchain from Pernille Corydon. The beautiful balance print from Ylva Skarp has been on my wishlist for some time now. And as some of you might know, I would love to add it to our bedroom.
I would also love to get ready for the sun and long summer days with the new organic sun oil and stick from Rudolph Care.
One of the coolest things would be a basket full of products from Blok 18. Just fill it up with all good things from Bornholm, and then I will be in food heaven. On my list is also the grey bottle set from Menu. And to add a bit of fun to our kitchen, I would love the kitchen wall quote from Made of Sundays.