One of the things I love the most about summer is picking out books for my summer reading list. The last couple of years I've taken the time to read more books. I had a period in my life where I never picked up a book, and I realised that I needed books in my life to relax and feel inspired and happy. Now I'm always in the middle of a book or finishing one – and I love it. As soon as I read the last word on the last page I go to my bookshelf and pick out the next one. I also keep a page in my notebook just for book titles that I would love to check out. Then once in a while, I go online and read more about the books on my list. Some of them then end up in my home and some I delete. But I always keep a list. How do you keep track of the books you want to read?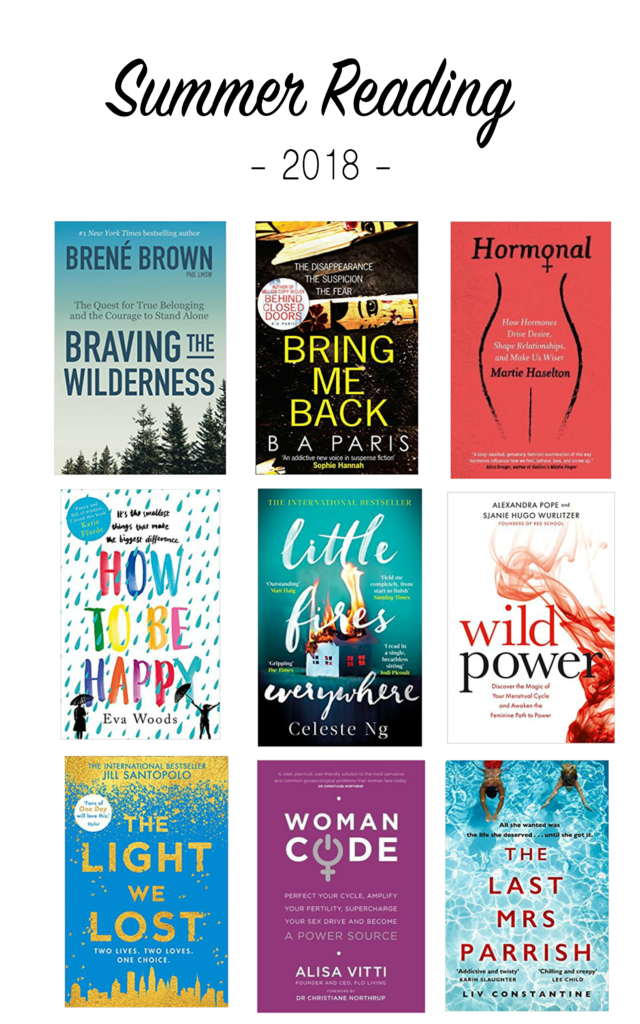 – This post contains add links – 
Summer Reading List 2018
Braving the Wilderness by Bréne Brown
Bring Me Back by B.A. Paris
Hormonal by Martie Haselton
How to be Happy by Eva Woods
Little Fires Everywhere by Celeste Ng
Wild Power by Alexandra Pope
The Light We Lost by Jill Santopolo
Womancode by Alisa Vitti
The Last Mrs Parrish by Liv Constantine
These are some of the books currently on my wishlist. I always check out Instagram, The New York Times book section, Amazon, and Pinterest when I start to browse for new books. I always find it inspiring to see what others are reading right now. Lately, I've actually been looking at Reese Witherspoon's Bookclub account on Instagram for inspiration. I hope these 9 books have inspired you to go and check out some of them and that you'll get the time to read a book or two this summer. I know I'll be waiting for some of these books to arrive in the mail within the next couple of days. Let me know if there's a must-read-book that's missing from my list. I'm sure you get what kind of genre I'm into by now.