We won't have time to celebrate Mother's Day this year. Both kids will be playing soccer and one of them has to get up way early to help serve breakfast for the many tournament participants or clean up after them. For the past years, it has been a fantastic weekend filled with good people, sunshine and lots of kids playing soccer.
But a girl can dream, right? That is why I've decided to collect a few things from my wishlist – just in case someone needs inspiration. And if I'm not the lucky receiver, then I hope I can inspire you instead.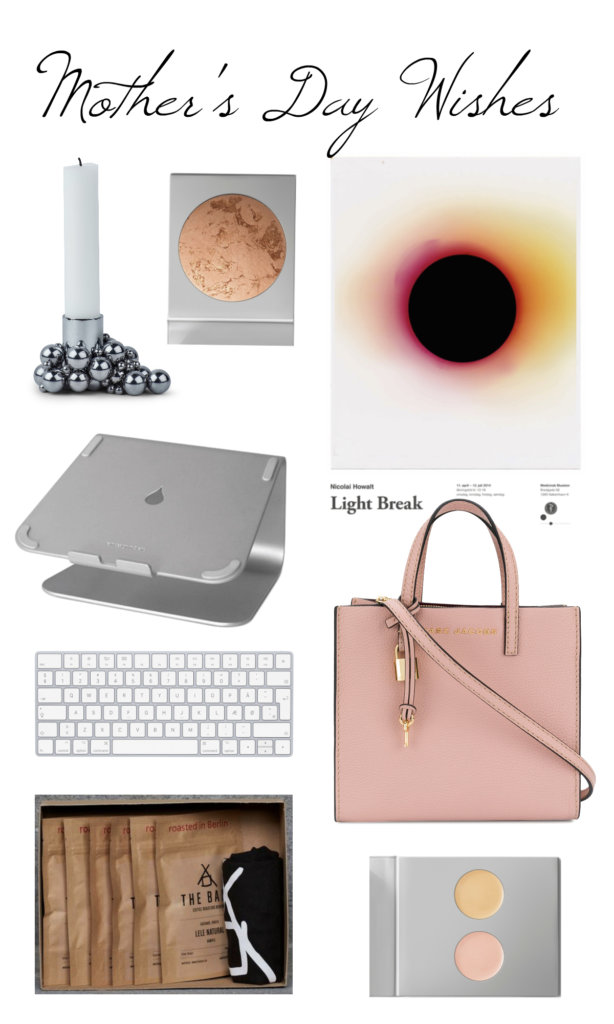 – This post contains add links –
Here's a little helping hand for those in my family reading – and the rest of you can use this list as inspiration or shopping list if you please.
Molekyl – the most amazing candle holder to hit the shops in a long time.
Miild Organic Mineral Bronzing Powder – This one has been on my wishlist for quite some time. Let's go shopping family 😉
Light Break Print – I first spotted in the Danish tv series GreyZone – and some nice ladies on Instagram helped me find it online. It's sold out at the moment, but the shop owner promised that it would be back in stock soon.
A new stand for my MacBook Pro – I really need to take better care of my body, and on top of my list is a stand and a new Magic keyboard along with a Magic Trackpad 2.
Pink Marc Jacobs Mini Grind Crossbody Bag – I love everything about this bag.
Coffee Box of Samples from The Barn Coffee Roasters – I absolutely love love love when I have coffee from this place in my own home.
Miild Organic Mineral Concealer Duo – Along with the Bronzing Powder this would be perfect in my bag.